Our training of trainers "The Art of Togetherness" has officially begun! For 7 days, 25 youth/social workers will be gathered at the European Youth Centre of Strasbourg.
This training of trainers is the first activity of the work plan "ArtSI: The Art of Social Inclusion". The objectives of the work plan are:
to develop the competences of youth workers, facilitators and social workers in facilitating local and European activities for social inclusion
to understand the process of social inclusion
to try out and experiment different tools and methods to work on social inclusion
to support and valorise young people's actions at local level
to learn/become inclusive and active
During this week of work, the trainers will get to explore various ways and good practices to empower young people to take action towards social inclusion.
Learning and practising
The programme will go over various aspects of youth work. During the first days, the trainers will work together and reflect on different theories, values and tools such as: non-formal education, social inclusion, active listening, facilitating techniques and methodologies. A practice phase will then allow the participants to use their skills and competences through art. At the end of the week, the trainers will work together on planning the upcoming linked activities: 3 youth exchanges that will took place during the summer.
DAY 1
Welcome and introduction of the project
The first day of the training was dedicated to getting to know the project and each other. In the morning, the participants were invited to reflect on the objectives of the project, their expectations and contributions. They expressed their hope to share experiences, knowledge and examples of good practices, learn new methods, get feedbacks, help and inspire each other and create new friendships and partnership.
After that, they got to know each other as individual and youth/social workers, share on their common interests, all of that in a beautiful and friendly atmosphere!
Team building and group dynamics
Under a beautiful spring sun, the group got to develop their team spirit with 2 outdoors activities! The first one was a game of chairs that helped them develop their active listening, strategy, and non-verbal communication. For the second one, the team had to cross a field of "lava" and make sure that nobody got left behind! Together, they managed 4 different techniques and learned to listen to each other's sensibilities.
The last part of the day aimed at understanding and reflecting on group dynamics. What is the difference between a group and a team? They went over the Tuckman's model, the PPP model and the 5 steps of group dynamics.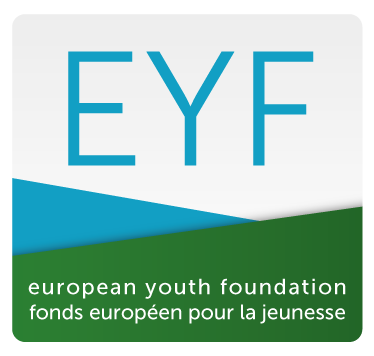 Activity supported by the European Youth Foundation of the Council of Europe